Home Feed Design on iOS
The Home Feed or page has been designed to help users fully engage with the Bible through Bible reading, Verses, various reading plans, images and friends.
Home Feed design
The Home Feed has For You and Community tabs and access to your YouVersion Profile
Some of the items on the For You tab can be rearranged
Items on the Community tab appear in date order (most recent first)
For You content includes
Verse of the Day Story (pinned to the top)
Bible App Activity (pinned to the top)
My Plans
Verse of the Day
Verse of the Day Images
Related Verses
Badge Progress
Plans Your Friends Are Reading
News from Bible App
Plans We Recommend for You
Recommended Friends
Community content
You'll see a dot next to the word community if there's new friend activity for you to view
Friends & Add Friends options
Friend Activity moments such as bookmarks, highlighted verses, reading plan activity, created/saved verse images
Your own activity moments that are visible to those on your YouVersion friend list such as bookmarks, highlighted verses, plans that have 'friends only' privacy setting, notes you saved with 'friends' privacy setting
YouVersion Profile
Select your profile picture or icon at the top right of the Home Feed
From here you can edit your profile by selecting the 3 dot overflow menu at the top right
Your data lists are available from here. Select the one you'd like to view
Your activity moments appear in date order (most recent first)
How to Rearrange Items on the For You tab
Select Home (& For You, if necessary)
Select the three dots in the upper right corner of any activity moment or scroll to the bottom of the feed.
Select Rearrange
Press/hold and drag the sections in the order you'd like to have them appear in the feed.
Select Done at the top right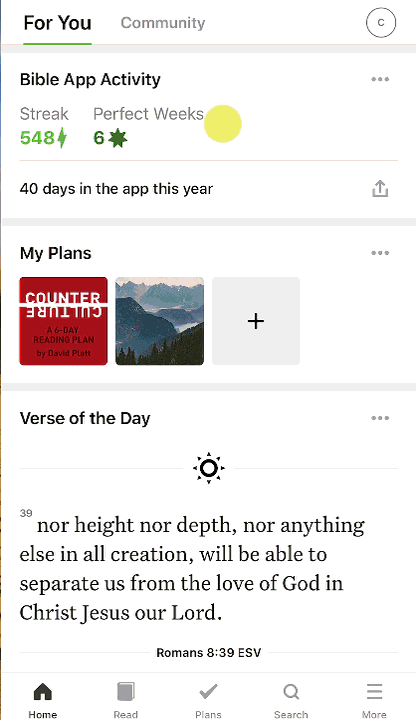 ---
---